D.E. Scorpio Corporation Bid Opportunity
Project: Pi Kappa Phi New Fraternity House at UF Gainesville
Questions Due by: Wednesday, May 24, 2017
Bid Due Date: Thursday, June 1, 2017 by 2:00pm

PROJECT DESCRIPTION:
The D.E. Scorpio Corporation is accepting final pricing with voluntary value engineering for a new 2-story, 16,800 sf, 46 bed fraternity house located on the UF campus. Bidders must acknowledge spec sections 01 21 00 – Allowances, and 01 23 00 – Alternates. Construction is to begin June/July 2017.
SCOPES:
Building demolition, cast in place concrete, masonry, cast stone, structural steel, ornamental metals, rough carpentry, pre-engineered wood trusses, casework, finish carpentry, waterproofing, insulation, roofing (shingles, membrane, and standing seam), fiber cement soffits, doors/frames/hardware, overhead coiling doors, clad windows and doors, drywall, stucco, FRP, painting, flooring, epoxy flooring, miscellaneous specialties, exterior signage, postal specialties, window treatments, quartz countertops, elevator, fire protection, plumbing, HVAC, electrical, site work, soil treatment, fencing, landscape, hardscapes/pavers, site furnishings.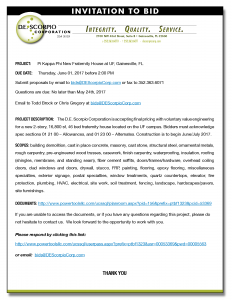 Bid Documents HERE.
For additional info, contact Todd Brock or Chris Gregory at bids@DEScorpioCorp.com.