Luncheon Keynote Speaker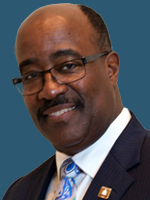 Alvin J. Cowans, CCUE, serving as President/CEO since November 1985 of McCoy Federal Credit Union in Orlando, Florida and has been in the financial industry since 1978. McCoy Federal is a large community credit union with over $549 million in assets as of February 2017. The Credit Union's field of membership is the Orlando MSA serving Orange, Osceola, Seminole and Lake Counties.
Alvin earned his Bachelor of Science degree in Journalism from the University of Florida, Gainesville, Florida in 1977. He was a four-year letter winner for the Fighting Gator Football Team 1973 to 1976 and was Co-Captain in 1976. Was selected as All-Southeastern Conference Defensive Back, and to the Senior Bowl in 1976. A 10th Round Draft choice of the Pittsburgh Steelers in 1977 and a Free Agent pick for the Washington Redskins in 1978. He was inducted into the University of Florida Gator Athletic Hall of Fame in 2003. His involvement with UF has included serving on the Presidency of the Letterman's Association, Director of Gator Boosters and as a Director for two terms for the University of Florida Foundation, Inc.
He is a Graduate of the Chamber of Commerce Leadership Orlando Program. He furthered his professional Credit Union education by graduating from the Florida Credit Union League Management Institute, CUNA's Advanced Management Institute, and obtaining the designation of Certified Credit Union Executive (CCUE).
Alvin was named to the Official Registry of the "Outstanding Young Men of America" and the Who's Who of American Business Leaders. He was selected into the Who's Who In America's Credit Unions.
He served the maximum nine years as Region III Director for the National Association of Federal Credit Unions (NAFCU) a trade association in Washington, DC.
In 2015 Alvin was appointed by the Federal Reserve Bank of Atlanta to serve on their Community Depository Institutions Advisory Council for a three-year term. In 2013 Alvin was appointed to a second four-year term as a Director for the League of Southeastern Credit Unions, and has served as various Board Officers as well as currently serving as Chairman. He served on the Board and as a Chairman of the Board of Directors of CU24 Inc. (Credit Union ATM Network). Alvin was appointed by the Mayor City of Orlando to the City's Finance Committee and has been serving since 2009.
Alvin was appointed by the President of the United States William J. Clinton, to a three (3) year term on the Federal Reserves', Consumer Advisory Council (CAC). He was appointed by Florida Governor Bob Graham to the Valencia Community College Board of Trustee and served two years.
Alvin is serving and has served with various community organizations in a multitude of capacities over his 40 years in the Orlando area.
He is a member of the Alpha Phi Alpha, the Sigma Pi Phi Fraternities and the 100 Blackmen of Orlando.  April 2011 he was inducted as an honorary member of the Florida Blue Key.
Alvin Cowans is married to UF Graduate Shirley S. Cowans. They have two sons, Dr. Alvin Jeffrey Cowans, II and Marcus A. Cowans and one grandson, Marcus A. Cowans, II.