Sherron Washington, Founder & CEO, P3 Solution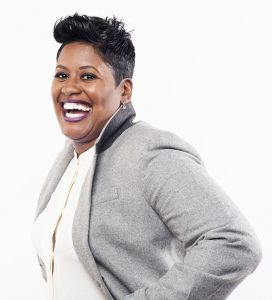 Sherron Washington, M.A. is a marketing and communication (marcomm) professional who has imparted her wisdom and expertise for nearly 20 years. She has been deemed "The Marketing Whisperer" due to her uncanny ability to assist clients in developing innovative, results driven, yet simple solutions for their business.
Sherron is the founder and CEO of the P3 Solution, a full service marketing and communications (marcomm) firm located in Silver Spring, MD, that specializes in providing simple strategy, design and social media marketing solutions for small businesses, non-profit organizations, associations and entrepreneurs.  She has built her firm around the principle of "marketing simple," which instruct clients to embrace simplified methods to promoting their business. The P3 Solution is also the creator and host of "Market Simple: The Summit" (www.imarketsimple.com) an annual, full-day workshop designed to help businesses learn how to effectively create and execute their marketing and communication efforts successfully.
Sherron is the author of two books Market Simple: The Blueprint to a One-Page Marketing Plan and The Oops Moment: Eliminating Marketing Mistakes, Mishaps & Missteps.  In addition to writing a book, she is also a contributor for SmartCEO, Social Media Today and LinkedIn Marketing publications, where she writes articles on how to streamline the use of social media in order to make a more effective impact.
As a speaker, trainer and professor, Sherron has an energetic style that captivates and educates simultaneously, sharing expert marketing insight in fun interactive sessions that engage the participants and enhance the learning experience. Sherron has presented at several conferences around the country including, 2016 The International Council of Small Business Conference, Modern Femme, Inbound 2017 and Las Vegas Pubcon 2017 to just to name a few. She has also appeared as a marketing expert or WHUR's The Daily Drumm with Harold Fisher, and The Maggie Linton Show on Sirius XM.
Sherron has been a Business Communication professor for 10 years at Trinity University in Washington, D.C. and Stevenson University in Baltimore, MD. She has taught graduate and undergraduate courses in:  Public Speaking, Introduction to Mass Communication, Theory and Practice of Marketing, Gender and Communication, Leadership, Introduction to Women Studies, Intercultural Communication, Interpersonal Communication, Consumer Behavior, Advertising and Promotion, Social Media Marketing and Public Relations. Sherron enjoys instructing students and discovering inquisitive, future leaders for the marketing and communication industry. Sherron has a Masters of Arts in Communications and a Bachelor of Arts in Communications with a double minor in Business and Media Technology.