2018 Mentor Protege Program Graduation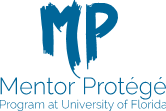 Designed to facilitate effective working relationships between mature established companies and emerging small businesses, the University of Florida Mentor Protégé Program has seen a growing number of participants.  Since the onset of the program in 2008, approximately 67 firms have graduated, including our recent class of 2018.  As one of many offerings for the small business community, the objective of this program is to increase the pool of availability and qualified small businesses seeking opportunities with the University of Florida.  In doing so, this initiative will foster increased business development and contribute to the economic advancement of the community resulting from small business mentorship. All of our mentors have participated in our program from previous years and/or have grown from being protégés to becoming mentors to emerging businesses. We are proud to note that our program attracts companies within various industries such as leadership consulting, branding, catering, construction and technology, with proven mentors who are more than capable to provide the quality insight and guidance necessary for success.  Each year, we anticipate connecting with small businesses throughout the state as these entities continue to grow, only seeking opportunities like our program to help them along the way.
So, it is with great pleasure we extend a hearty congratulations to our recent 2018 Mentor Protégé Program graduates! We wish them the best in all of their endeavors as they capitalize on the knowledge gained from this program.
Take a look at the photos from this year's graduation here!